GMB members gear up for battle as pay errors mount following ISS Project Greenfield fiasco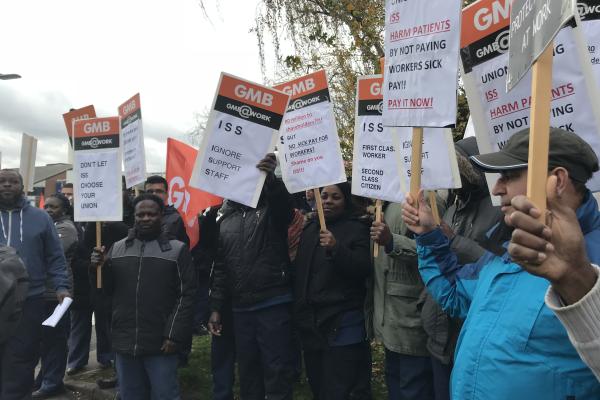 "There is no such thing as 'good privatisation' because we find that outsourced workers' pay, terms and conditions are always driven down and the service gets worse", says GMB Southern
GMB hospital workers have been reduced to queuing at foodbanks as their wages were withheld by ISS. Protests have been held across South London Hospitals and across the UK as angry workers demanded their wages instead of loans.
ISS management made multiple promises to the workforce that were quickly broken including that pay slips would arrive a week early and that pay errors would stop. GMB members are reporting that they have not had tax deducted and ongoing shortfalls in pay.
As predicted by GMB members, the administration of bridging loans was a shambles as some workers did not receive anything and others got double what they applied for. Information about the loans was not passed on leading to some being excluded from applying for desperately needed loans.
In a bizarre turn of events workers TUPE'd over to ISS at Queen Mary's Hospital in Sidcup went from being paid monthly to fortnightly.
Helen O'Connor, GMB Regional Organiser said: "Project Greenfield has really shone a light onto how workers are mistreated under privatisation. There is no such thing as 'good privatisation' because we find that outsourced workers' pay, terms and conditions are always driven down and the service gets worse.
"Workers themselves are quickly reaching the correct conclusion that the GMB Union is the only protection they will ever have against the spivs and cowboys taking over our public services.
"In Surrey and Borders NHS Trust, workers are so eager to get organised that they joined the union and elected their rep over the phone.
"Angry workers at Queen Elizabeth Hospital and Princess Royal faced down management at grievance meetings to demand emergency payments so that they could feed their families.
"All workers are pushing for further collective action up to and including a ballot for Industrial Action.
"ISS workers are now linking up across the hospital sites as they gear up to fight this exploitative NHS contractor."
Contact: Helen O'Connor 07506 711574 or GMB Southern Press Office 07970 114762