GMB meet Tan Dhesi MP to discuss Frimley Health Trust plans for outsourcing jobs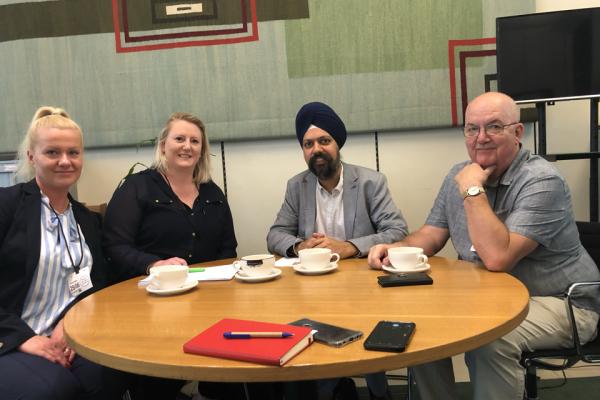 Yesterday Asia Allison, Keith Roberts and Michelle Gordon from the GMB met with Tan Dhesi MP who is the MP for Slough. Part of Frimley Health NHS Foundation Trust – Wexham Hospital is in Tan's constituency and many GMB members working for the trust are Tan's constituents.
The meeting was to discuss with Tan the current proposals by Frimley Health NHS Foundation Trust to establish a Wholly Owned Subsidiary (WOS) and transfer around 1000 "non-clinical" staff out of the NHS and employ them instead by the WOS.
GMB had a long meeting with Tan outlining our concerns about the proposals and why we as a union intend to opposed this change to GMB member's employment.
Asia Allison GMB Organiser said "We raised with Tan concerns about the impact the change will have on our members pay, terms and conditions and pensions. We also discussed why we think it is unacceptable for the Trust to be considering this move to save on VAT costs, which ultimately just impacts on the public purse.
We have also raised concerns about the lack of a business plan and the trusts failure to answer where they will find the £1million needed to set up this WOS.
We were extremely pleased Tan expressed his support for our campaign to oppose this transfer and confirmed Labours opposition to NHS Trusts forming Wholly Owned Subsidiaries, for the reasons we have outlined.
We look forward to working with Tan over the coming weeks and months to fight this proposal and ensure that GMB members who do such great work keeping the NHS running continue to be valued as the essential NHS staff they are."