GMB Kent protest on undercutting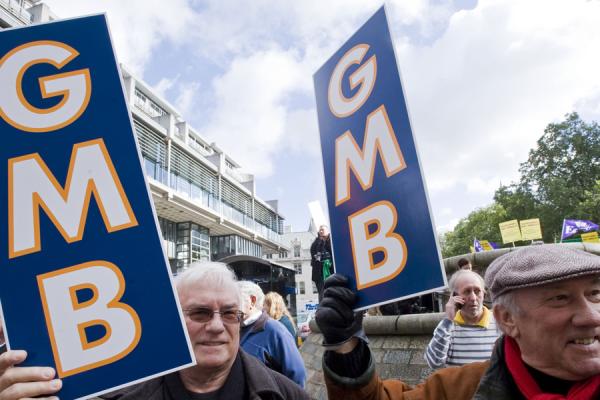 A protest demonstration in Sandwich Kent by construction unions GMB and Unite is part of a series of demonstrations of Wednesday 12 April over the undercutting and exploitation of construction workers.
The protests focus on several Danish firms who are involved in the funding and building of major energy from waste projects in the UK.
Workers are being paid up to 61 per cent below agreed industry rates, with some workers being paid just the minimum wage and financing their own accommodation and travel.
Burmeister & Wain Scandinavian Contractor is the principal contractor at the Sandwich project, worth £175 million.
The details of the Kent protest is as follows:
From 11.30am Wednesday 12th April
Outside Ramsgate Road, Discovery Park
Sandwich
Kent
CT13 9ND
See notes to editors for details of the other protests
Representatives from the two unions will be handing in a petition containing over 5,000 signatures to the Danish embassy at 11am calling on the Danish government to launch an investigation into the scandal.
Protests will also take place at energy from waste projects in Rotherham and a further demonstration outside the offices of Babcock & Wilcox Vølund in Solihull, West Midlands.
Babcock & Wilcox Vølund, which is building the Rotherham project (worth £165 million), sub-contracts large chunks of their work to Croatian company Duro Dakovic which pays workers as little as the minimum wage of £7.50 an hour.
The industry agreement (NAECI) has a basic rate of £16.97 an hour with an hourly bonus of £2.37 an hour.
The company refuses to allow unions access to the workforce and does not pay the hourly bonus, industry sick pay, enhanced holiday pay, travel and accommodation allowances and other benefits.
Both projects are being financed by Copenhagen Infrastructure Partners, the investment arm of Pension Denmark.
The organisation has clear corporate social responsibility policies which should apply to the organisation's supply chains both domestically and abroad, however these policies are being flouted.
On Monday 10 April a group of activists from GMB and Unite held a protest outside the offices of Pension Denmark to draw attention to the ongoing exploitation and undercutting that it is financing.
The Danish government has clear policies in place, due to the way it has interpreted the Posted Workers Directive, which prevents these forms of undercutting and exploitation occurring in Denmark.
However this does not legally prevent Danish companies from exploiting workers when they operate abroad.
Phil Whitehurst, GMB National Officer for Construction, said:
"These engineering, procurement and Construction (EPC) management companies, funded primarily by Copenhagen Infrastructure Partners – the investment arm of Pensions Denmark, have maintained they will not support any form of undercutting or exploitation by their supply chain.
"We have presented evidence to them highlighting exploitation and social dumping practices that, if carried out in Denmark, would carry a custodial sentence.
"We have endeavoured to negotiate with the construction companies responsible, but they refuse to sign up to national agreements in the UK, such as NAECI, which would put everyone on a level playing field.
"They appear to be worried the audit system would expose allegedly corrupt practices of exploitation and social dumping.
"We now intend to take this campaign forward – including meeting with the Danish Ambassador in London on 12 April.
"At that meeting we will hand the ambassador a petition of around 5,000 signatures demanding the Danish government investigates from top to bottom the investment and construction regime that is causing so much misery in the UK construction industry."
Unite national officer for construction, Bernard McAulay, said:
"Construction workers are angry that Danish companies are exploiting workers and undercutting pay rates, to boost their profits.
"This exploitation cannot be allowed to go unchallenged; it is vital that workers and the general public know what companies are trying to get away with on major projects and ensure their misdeeds are brought to account.
"Unite will leave no stone unturned in our fight to end exploitation and undercutting.
"Companies involved in these practices need to appreciate that there will be no hiding place."
Contact: Phil Whitehurst on 07968 338810.
Notes to editors
[1] The demonstrations are at the following times and locations:
London, Danish Embassy, 55 Sloane Street, Knightsbridge, London SW1X 9SR, 11am
Rotherham, Templebrough Site, Sheffield Road, Rotherham, S60 1AD, 6.30am
Sandwich, Ramsgate Road, Discovery Park, Sandwich, Kent, CT13 9ND. 11.30am
Solihull, International Square, International Park, West Midlands B37 7GN 8am
The NAECI agreement stands for the National Agreement for the Engineering Construction Industry.