GMB holds successful demo in Sandwich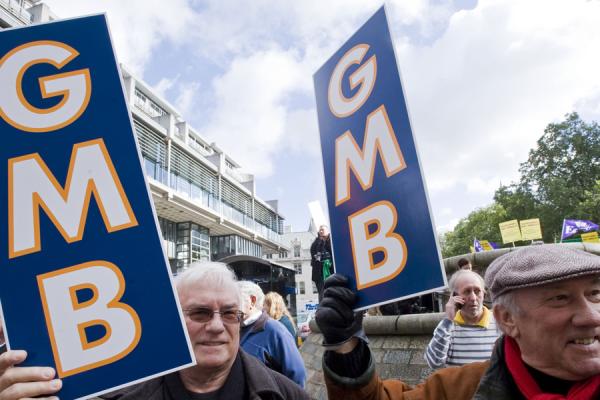 GMB, the union for construction workers, today protested against exploitation and social dumping by foreign companies in Kent.
Members, along with those from sister union Unite, demonstrated on Wednesday 12 April 2017 at Estover Discovery Park Bio Mass site in Sandwich.
The protest was to challenge the massive problem in the UK of exploitation and social dumping by non UK companies contracted to work on UK construction sites. The project in Sandwich is being undertaken by Burmeister & Wain Scandinavian Contractor A/S.
The GMB has traced the funding source for the Sandwich Bio Mass project as funded by Copenhagen infrastructures, who along with other banking and pension organisations have corporate social responsibility documents relating to the use of collective agreements. However, the contractor in Sandwich is refusing to sign up to the national agreement in place in the UK.
Ross Murdoch, GMB Regional Organiser said, "The contractor in Sandwich refuses to sign up to the UK national agreement, instead chooses to try and cherry-pick parts of it.
"By not signing up to the agreement they deny our GMB members a raft of pay and conditions including bonus payments, industry sick pay, full holiday entitlement, accommodation and travel allowances and entitlements for death and disablement. This undercutting is entirely illegal in Denmark but Danish companies are prepared to boost profits by aggressive social dumping in the UK."
GMB North Kent Engineering Branch Secretary Mick Laws said, "GMB along with its sister union Unite demonstrated a show of solidarity with British construction workers by organising and signing petitions to put pressure on the Danish Government to launch an investigation into these practices."