GMB hold ISS Day of Action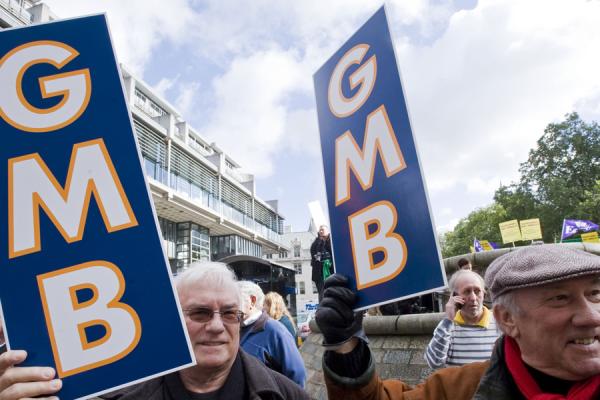 GMB, the union for staff in the health service, is holding a day of action at five South London hospitals on Monday 19th December in protest at the way contractor ISS is treating outsourced hospital cleaning, portering and security staff employed by ISS at the five sites. GMB has been involved in long running disputes with ISS in South London on the same issues.
ISS is a £9 billion, global services firm, however it continues to offer insecure, precarious contracts and pay sometimes as low as £7.88 an hour.
The 'Stop taking the *ISS' day of action is held on 19th December 2017 at 5 south London hospitals where ISS operate:
Queen Elizabeth Hospital, Stadium Road, Woolwich 15.00pm
Kingston Hospital, Galsworthy Road, Kingston 12:30pm
Maudsley Hospital, Denmark Hill, Camberwell 10:00am
Lambeth Hospital, Landor Rd, Brixton 14.00pm
Bethlem Hospital, Monks Orchard Rd, Beckenham 15.00pm
Nadine Houghton, Regional GMB Organiser, said: "ISS are using what they call casual workers agreements which are very similar to zero hours contracts. They pay sometimes as low as £7.88 an hour. You try living off that in London. Quite frankly we think that ISS should treat its workers with more dignity, more respect and more fairly.
"So GMB Union are organising a day of action. We will be protesting outside 5 of the hospitals around south London where ISS has contracts.
"We are asking you for your support and solidarity so we can build a movement against precarious employment and against the outsourcing that leads to workers being exploited."
Contact: Nadine Houghton 07714 239 227 or Michelle Gordon 07866 369 259 or GMB Press Office 07970 114 762
Notes to Editors:
GMB articles on dispute with ISS
1) ISS Payslip Row At Woolwich/Kingston Hospitals (April 2015)
2) 5 day strike at ISS Woolwich hospital (Mar 2015)
3) GMB win important victory against ISS in High Court over right to strike (Nov 2014)
4) ISS staff at Queen Elizabeth hospital in Woolwich on strike (Oct 2014)