GMB call for halt to Frimley Health NHS Trust privatisation plans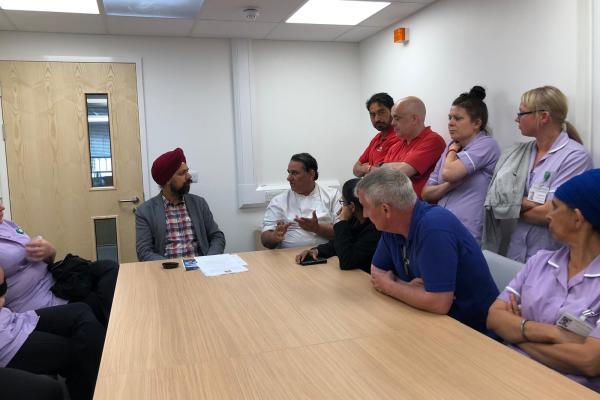 "This is an absolute stick on conflict of interest for Sir Andrew Morris if he's had any sort of input on the decision to allow this wholly owned subsidiary proposal by Frimley Health NHS trust to go through approved", says GMB Southern
GMB have called for a halt to plans put forward by former Chief Exec of Frimley Health NHS Trust, Sir Andrew Morris, to create a privatised non-clinical service and transfer over 1000 staff out of the NHS into a wholly owned subsidiary (WOS) in order to avoid VAT payments and cut the pay and terms and conditions of staff they would then employ.
The union are concerned that Sir Andrew now finds himself working for NHS Improvement, part of the very decision making and scrutiny body which ratifies and finalises NHS Trust plans for WOS applications. GMB therefore feel that there is an obvious conflict of interest in being able to virtually sign off your own application to privatise NHS non clinical staff and in doing so allow your previous employer to make a profit for themselves from VAT avoidance.
GMB are therefore calling for a parliamentary inquiry into the setup of NHS Improvement which allows such conflicts of interests to go unchecked and this approach of breaking up the NHS through the use of WOS as a way to full privatisation.
Gary Palmer, GMB Regional Organiser said "Is this how those responsible for the NHS now work? Create and announce a program of privatisation at your trust, and then go off to work for the very body charged to ensure that such business proposals are then considered both objectively and fairly, and then be allowed to be involved in the sign off of your own proposal.
"This is an absolute stick on conflict of interest for Sir Andrew Morris if he's had any sort of input on the decision to allow this wholly owned subsidiary proposal by Frimley Health NHS trust to go through approved.
"The trust's business plan which has not been publicly shared, has been created at the cost of the public purse, conceived by those safely remaining within the public sector and NHS with their protected salary's, and is now further possibly going to benefit by being scrutinised and signed off by its original architect also further paid by the public sector.
"All before condemning over 1000 staff within non-surgical services at FHFT out of the public sector and in to a free market, to be stalked by the major private profiteers awaiting signs that the trust would be happy to make a quick buck one year if the old trust coffers needed a quick boost.
"This whole sordid privatisation process needs looking into and a parliamentary or even public inquiry is the only way we can be sure that this whole awful idea has indeed been open and transparent from start to finish and not shrouded by the smoke and mirrors as it appears to be.
"It's clear to me that the only public money of any value in this case would be money spent removing the Chief Exec and his whole management team from the Trust and NHS."
Contact: Gary Palmer 07552 165950 or GMB Southern Press Office 07970 114762