GMB ballot ambulance staff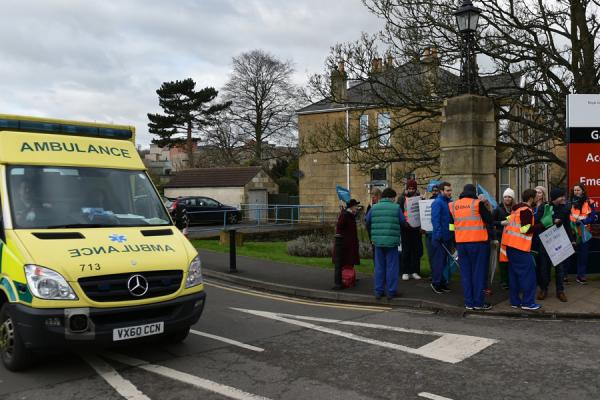 GMB, the union for ambulance staff, will undertake a consultative ballot of members working in the ambulance service between Friday 29th April and Wednesday 25th May, 2016.
The consultative ballot will ask GMB members in the ambulance service what action they are willing to take against unfulfilled promises from Secretary of State for Health Jeremy Hunt to improve pay and conditions for ambulance workers.
GMB is asking for fair pay, a safe and sensible retirement age, proper training and improved development and career progression for ambulance staff.
Rehana Azam, GMB national officer for the NHS, said "An overworked, underpaid and overstretched ambulance workforce cannot be expected to keep responding to 999 emergency calls, whilst their government sits back and does nothing. The government promised to recognise the valuable skill set of ambulance staff. They promised to invest in the ambulance staff and service. The government has failed to live up to their promises.
GMB and other unions have been left with no alternative but to announce a consultative ballot of ambulance staff in England with the potential for an industrial action ballot in the near future. Professional ambulance staff cannot be expected to keep picking up the slack for government incompetence on promises to invest that they have failed to deliver.
Back in 2015, in a desperate effort to conclude the pay dispute of 2014/15, the Secretary of State for Health, Jeremy Hunt, agreed to a review of the banding system in place to recognise the skill set of ambulance staff. The government's failure to follow through has not been received well by ambulance staff.
GMB members in the ambulance service are increasingly losing their patience with government. With demand on the NHS at an all time high, it's the ambulance staff that have endured the worst conditions in responding to life threatening 999 emergencies; often having to administer care longer, unable to hand over patients to A&E's due to the lack of capacity. With the depleted numbers in ambulance staff, a shrinking workforce has to respond to increasing demands. These demands are increasing the numbers of cases of stress with staff morale at rock bottom.
GMB calls on the government to prioritise the delivery of the 2015 promises and set out a detailed plan for how they will deliver on them. Otherwise, an industrial action ballot timetable in the ambulance service will be unavoidable."
Steve Rice, GMB Chair of the Ambulance Committee, said "I have worked in the ambulance service for over 30 years. Ambulance staff are heartily sick and tired of being pushed around and say 'enough is enough'. In 2015 we settled the pay dispute with the Secretary of State for Health, Jeremy Hunt in good faith. Based on an offer with assurances that the recruitment and retention of ambulance staff would be looked at and the banding of staff will be addressed by recognising that the skill set of ambulance staff had changed and modernised. Nearly a year on we feel badly let down with an undelivered promise and a continued demand on the 999 emergency service. The GMB Ambulance Committee urges Jeremy Hunt to get round the table, otherwise a second dispute in the NHS in addition to the junior doctors will be his making and unavoidable".