GMB@Tolpuddle 2017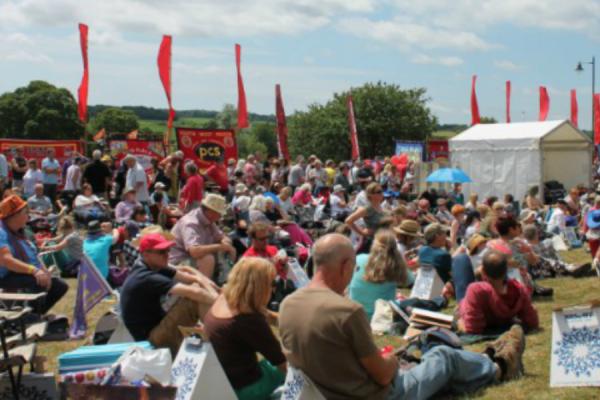 Once again this year, GMB Southern Region is organising free camping at the Tolpuddle Festival in Dorset. Any GMB member can camp with their family for free from Monday 10th to Monday 17th July. You can stay for the whole week, part of the week, or just for the festival weekend itself, which is from Friday 14th until Sunday 16th.
The Tolpuddle Festival commemorates six Trade Unionists who were deported for their Union activities in 1834. Every July thousands of people come to Tolpuddle to celebrate trade unionism and to remember the sacrifice made by the six farm workers of the village. The festival is a popular mix of political discussion and speeches, great music to suit all tastes, entertainment for all the family and the traditional procession of banners, wreath laying and Methodist service.
The GMB camping field has space for tents and car parking (not campers or mobile homes), and has facilities for washing, toilets and electricity and is primarily a gathering place for GMB members who wish to either enjoy a week's free camping using the field as a base in the tranquility of the Dorset Countryside or simply to use whilst attending the Festival on the main TUC site.
There will be entertainment on both the Friday and Saturday nights, courtesy of Dare Devil Rides to Jarama, a new play by Neil Gore.
Those wishing to attend the main TUC festival opposite will require a weekend ticket. Tickets are available now from www.tolpuddlemartyrs.org.uk. Last year sold out three weeks prior to the event, so don't rely on getting a late ticket purchase!
GMB are at present seeking 6 volunteers in total who can commit to 2 x 5 hour volunteering roles (shifts) on any days (subject to availability) between Thursday 13th and Sunday 16th, for which full tickets for the festival will be given in return.
To book a space in the GMB camping field for the full week or just the weekend, or if you have any questions about any of the above, please send your name, GMB membership number and your contact details to tolpuddle@gmb.org.uk