Further strike days confirmed at Frimley Health Foundation Trust hospitals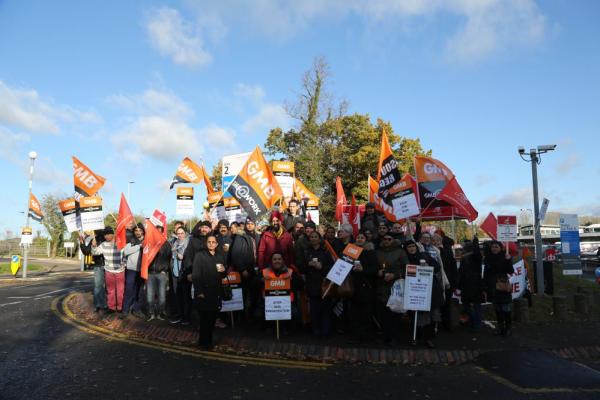 "The implementation of a Wholly Owned Subsidiary and the unfair transfer of concerned staff must cease in all or any of its proposed forms by the Trust" says GMB Southern
GMB, the NHS union for all non-clinical staff working in the Health sector, has issued further industrial action dates in the fight to stop Frimley Health NHS Foundation Trust (FHFT) privatising over 1000 cleaners, porters, security, catering staff and others, working across its 3 sites at Frimley Park, Wexham Park and Heatherwood hospitals.
The further 3 days of strike action which will take place on the 18th, 19th, and 20th December will see pickets and demonstrators alike outside all the trusts hospitals. This comes on the back of a successful 2 days of action in November, which saw unprecedented levels of solidarity not only from staff directly affected if the Trust's plans are allowed to progress the transfer into the private sector, but also from NHS professionals including doctors and nursing staff within the affected hospitals.
GMB have offered, along with another of our NHS partner unions, to meet with the Trust at any time. This is despite deliberate interference by the Trust and allies to cancel the original strike and impose a deal not agreed by the majority of unions involved. FHFT claimed that they had positively paused proceedings despite being unable to progress matters regardless because of electoral purdah. GMB are therefore insisting that meetings in the future are independently chaired by ACAS to prevent further misunderstandings for all going forward.
Whist the trust considers the proposal, GMB have reiterated their position and that of their membership at the Trust, in that the red line has not and will not change and the Trust must cancel and stop the Wholly Owned Subsidiary (WOS) in its entirety.
Asia Allison, GMB Regional Organiser said: "Issuing further dates is a clear indication that the trust will not be able to trick, threaten or bully their way into creating a WOS for the purpose of tax avoidance off the backs of our members and their staff across the Trust's hospitals.
"This second phase of industrial action is simply the next step towards if needs be in a winter of discontent for affected staff at the Trust. Our members tell us that they are committed to saving their NHS status and that no future outside in either a wholly owned subsidiary or contractor is acceptable to them in any form.
"GMB are quite rightly solidly behind them in that and no amount of managerial intimidation, threats, or illegal use of strike breaking private providers will stop them in fighting on to Stop the WOS."
Gary Palmer, GMB Regional Organiser said; "What a Wonderful Christmas present Chief Exec Neil Dardis and Director of HR Janet King, who we mustn't forget still stands likely to become the new CEO of the WOS, proposes to give over 1000 staff at the Trust of a future in 2020 of enforced privatisation and transfer out of the NHS.
"The Grinch-like move by both of them to spoil the festive season and endanger staff and their families future Christmas' whilst rewarding themselves we expect with large bonuses is shocking to say the least, but making decisions at dizzy heights at this time in the NHS tend to bring about dizzy decisions.
"The fact that they are selling it as the Trust having the ability to still take advantage of the tax avoidance benefits is all the argument needed by GMB and its members to confirm what we've said all along that this is only a business case singularly built around finances and not for any other benefit to either service delivery improvements and/or the patients themselves.
"Further strikes will continue to celebrate all forms of solidarity, community and a vision of when hardworking NHS staff will rid themselves of management set on ruining the NHS through privatisation and personal profit through large public salary's themselves whilst seeking to take away some of the lowest paid within the NHS's future in public service.
"On the day the message will remain clear to all…… Stop The WOS!
"And stop it for good across all Frimley NHS Trusts hospitals."
Contact: Asia Allison 07813 541930 or Gary Palmer 07552 165950 or GMB Southern Press Office 07970 114762