Carillion quit Great Western Hospital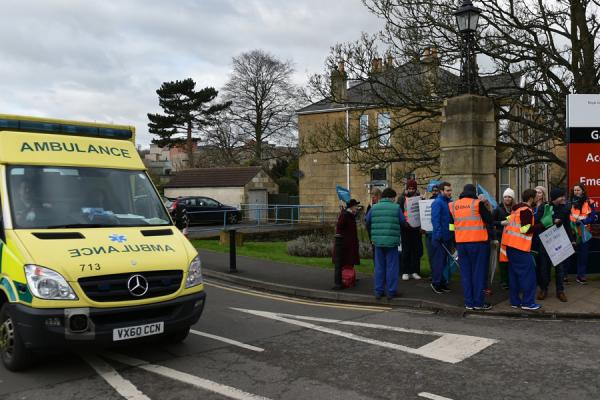 GMB, the union for staff working in the health service, has welcomed the confirmation from Carillion, that they will be quitting the Great Western Hospital in Swindon, and that the facilities management contract with the NHS trust has been sold to Serco.
The troubled Carillion group has disposed of facilities contracts for 15 hospitals for a reported £47.7 million, all contracts to be transferred during 2018. In July 2017 Carillion announced a £845 million black hole in its finances, and a profit warning that led to five senior directors, including CEO Richard Howson, leaving the company. The dramatic fall of Carillion's share price saw them drop out of the FTSE 100 index of leading companies.
Andy Newman, Wiltshire and Swindon GMB Branch Secretary said: "Carillion has had a very poor record at Great Western Hospital, marked by conflict with trade unions and staff, and underperformance of the services that NHS has been paying them to provide.
"In 2014, the NHS trust's board unambiguously expressed their dissatisfaction with Carillion, following a one-star rating from the Food Standards Agency over food storage temperatures and other matters.
"The overwhelming majority of Carillion staff at the GWH are members of GMB trade union, yet the local management have continually failed to constructively engage with our union, which means that many issues which could have been resolved simply by talking have escalated into conflicts that were entirely avoidable. This has been a distraction for both management and staff away from providing the high quality services that the NHS requires and deserves.
"During 2012, GMB members had 21 days of strike action at the hospital, and during that dispute GMB uncovered Carillion's disgraceful participation in the unlawful practice of 'blacklisting'. The Information Commissioner's Office later confirmed that 224 people had been put on an unlawful blacklist by Carillion, and Carillion admitted that wrong doing in a statement to court, and made a financial settlement to the victims.
"GMB believes that it is disgraceful that a company that has consistently behaved unethically should have been in receipt of public money for so long. The financial difficulties, lack of transparency and chaos at Carillion explodes the myth that the private sector is more efficient at providing services than the public sector. Our preferred solution would have been for the NHS to bring the services back in house, but at least with Carillion leaving the GWH, the staff will get a fresh start, and GMB will do everything we can to ensure an improvement in industrial relations."
Contact: Andy Newman 0754 0859 227 or GMB Press Office 07970 114762
Notes to editors
1) Carillion's financial difficulties
http://www.constructionenquirer.com/2017/09/11/five-carillion-directors-in-senior-management-exodus/
2) NHS trust "frustrated" with Carillion
http://www.bbc.co.uk/news/uk-england-wiltshire-29350244
3) 224 workers blacklisted by Carillion
http://www.construction.co.uk/construction-news/145665/224-workers-blacklisted-by-carillion
4) Carillion admits wrongdoing in court over blacklisting
http://www.theconstructionindex.co.uk/news/view/blacklisting-companies-admit-liability
5) Background to strikes by GMB's Carillion members at GWH
http://www.leftfutures.org/2013/02/first-anniversary-of-gmb-strike-action-against-carillion/