Being transgender in the workplace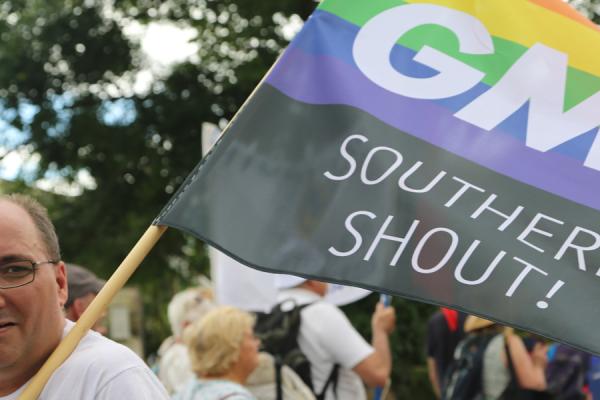 GMB member features on ITV border news story on being transgender in the workplace
If doing this can help remove the stigma around Transgender then it will have been worthwhile says GMB member Nicole Cowles
GMB member Nicole Cowles will feature in a Border News story on being transgender in the workplace on ITV at 6pm tonight, 31st March 2016. The segment is the second half of a two part feature in which Nicole, who works as an operations support technician in Sellafield, shares her personal story of life as a Trans woman.
Nicole also attended the GMB National Equality Conference this year in Cardiff where she was welcomed by newly appointed GMB General Secretary Tim Roache, GMB National Equality Officer Kamaljeet Jandu and delegates.
Nicole Cowles, GMB member, said "I am so proud to be able to raise the profile and awareness about LGBT and Transgender in particular. I am now living my own life experience as Nicole, the support I have received from the GMB Sellafield branch, and our region has been phenomenal. Sellafield Ltd has been very good with supporting my own needs and putting all the arrangements in place for me at work. I have a really fantastic and understanding line manager who has never done anything other than accept and support me. That, at the end of the day, is all I need.
It's only because of all this support that I can now move on and have a good and healthy work-life balance. I am really keen on supporting or helping anyone else within our LGBT community; if I can share my own experiences of transitioning, and this can help others, then why not?
When I was deciding when or how I would start to transition, I went to our GMB office and spoke to our convener Joe Murdock. When I told him I wanted to transition, and asked could they help me, Joe said; "Of course we can, we need to get in touch with Carl Lewthwaite" GMB Sellafield's branch equality officer.
I would like to say a mention about the support I have had from Carl, he has been a shining light for me, he is caring, compassionate, and he knows what he is talking about with regards to equality and diversity, he's been great.
I hope my feature can help anyone who may be living how I was as Nigel. Transgender is real, and it affects real people. We are human, at the end of the day. If by doing this it can help remove the stigma around Transgender then it will have been worthwhile. I want to continue being an activist within GMB and help the cause. I was really taken aback with my reception at the GMB National Equality Conference, it was marvellous, and I have now met lots of new friends within the GMB Family.