GMB protest outside Lewisham Hospital over 'insulting' 20 pence pay rise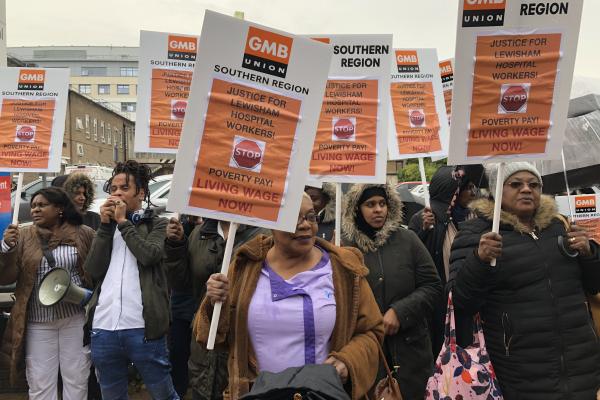 ISS was given contract as a living wage employer – now they must honour that, says GMB 
GMB union members employed in Lewisham and Greenwich NHS trust as cleaners, porters and hostesses are planning a demonstration outside Lewisham Hospital on Monday [7 March 2022].
The workers are unhappy their employer, Danish outsourcing giant ISS, has offered them a 20p per hour pay rise.
These key workers have not had a pay rise since before the pandemic and are demanding the London Living Wage of £11.05.
ISS took on the contract in 2020 based on them being a living wage employer but have consistently paid their workers below that rate for two years.
The protest is taking place as follows:
Monday 7th March from 2pm
Lewisham Hospital, Lewisham High Street, Lewisham, SE13 6LH
Helen O'Connor, GMB Regional Organiser said: "Hospital workers and patients have been consistently failed by ISS before and during the course of the pandemic. A 20 pence pay rise is just the latest insult.
"When ISS first took over the contact, some workers didn't get paid at all as well as being denied Personal Protective Equipment during the pandemic.
"Our members have been subjected to the most horrendous bullying by managers too – made to clean infected areas without PPE, forced to cut costs in the kitchens leading to a marked deterioration in food quality and job losses.
"Our members have simply had enough. ISS was given this contract as a living wage employer, now they must honour that.
"Members face a cost of living crisis and tell GMB their bills won't wait for lengthy talks with ISS and the trust.
"This protest is the start of a programme of escalating action and they are calling on the public and the local community to support them in order to protect standards in Lewisham hospital."
Contact: Helen O'Connor on 07506 711 574 or GMB Southern Region Press Office on 07866 441 656