Last minute talks between GMB and Wiltshire Council seek to resolve 'Fire and Rehire' dispute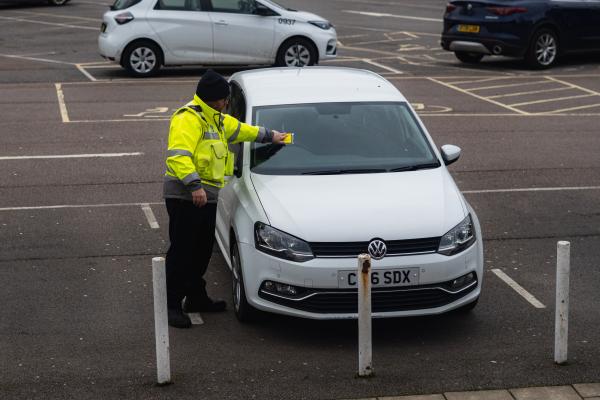 GMB is totally focused on resolving this dispute. It is not in the interests of Wiltshire residents, Wiltshire council, or our members for there to be a strike if one can be avoided, says GMB
GMB will be meeting Wiltshire Council for talks tomorrow [Wednesday 29 June] on the eve of a week-long walkout of traffic wardens across the county.
The talks will be facilitated by ACAS, the government conciliation service, and will take place at County Hall in Trowbridge.
GMB first notified Wiltshire Council of strike action on Friday 21 April, however Wednesday 29 June, some ten weeks later, is the first date that council representatives have made themselves available to meet, having previously pulled out of talks agreed for Tuesday 7 and Friday 24 June.
GMB representatives have cleared the diary for the whole of the day in order to resolve the industrial dispute, but the council has informed GMB, through ACAS, that the talks need to finish by 2:30pm.
Keith Roberts, GMB Regional Organiser says:
"GMB are confident that there is a path to resolve this dispute, if the council want to take it.
"The council are proposing a 10% pay cut for traffic wardens, and a 20% pay cut for social workers.
"Our members do not agree to voluntarily accept this change to their contract, because they simply cannot afford to agree to this pay cut.
"GMB will happily work with the council to find other ways to save money, but we cannot accept our members taking home between £2000 and £7000 less in wages.
"GMB is totally focused on resolving this dispute. It is not in the interests of Wiltshire residents, Wiltshire council, or our members for there to be a strike if one can be avoided.
"We do regret that it has taken a whole ten weeks for Wiltshire to field a negotiating team, and that even after all that time, a multi-million pound business employing more than 16 directors earning more than £100k per year, cannot find a manager who can spare a whole day to try to resolve a strike.
"When there is an industrial dispute, GMB are used to both unions and employers committing to talk as long as necessary to find a solution, and to burn the midnight oil if needed. We are disappointed that Wiltshire Council are not more committed to resolving this conflict. Nevertheless, GMB will work professionally with what we have to deal with, and every effort will be made from GMB to find a reasonable solution that works for everyone.
"Our concern is that the council have refused to rule out the controversial malpractice of 'fire and rehire', which rogue employers use to drive through changes by literally sacking their own staff and forcing them back on worse conditions.
"It is not too late for the council, at this eleventh hour, to rule out 'fire and rehire' and to start to restore the bonds of trust with their workforce that they have undermined. If, however, the council will not rule out 'fire and rehire' then GMB and our members will draw their own conclusions.
"We don't want to fight, but if we have to, we will."
Contact: Keith Roberts on 07852 182348