GMB Members at Lewisham Hospital to hold march and rally over pay dispute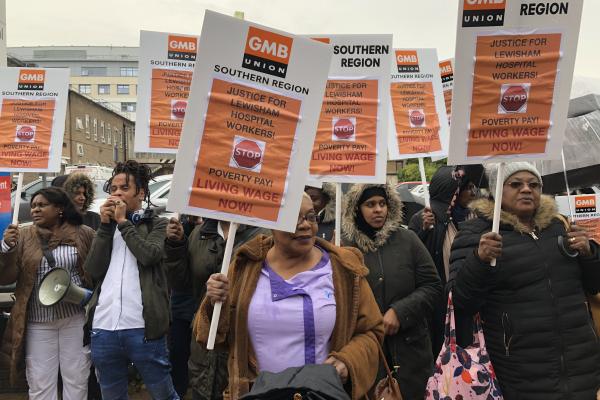 It also still remains the case that the members are significantly worse off than if they were directly employed by the Trust, says GMB Southern
Years of GMB organising and lobbying culminating in a high profile demonstration in October of this year outside Lewisham Hospital, coupled with the encouraging support of local Labour MPs and Councillors, has led to a situation where Lewisham and Greenwich NHS Trust are proposing a very significant pay increase to workers. For some members, this increase will take them from £8.21 per hour to £10.55 per hour and thus a pay increase of 28%.
GMB see this as a major success, as it is only right that the trust recognises their responsibility to move these workers out of poverty wages. That being said however, at the time of writing there are still a number of questions that remain unanswered.
Firstly, despite this significant pay rise having been mooted, the net result is that the Trust will still not be a London Living Wage employer, given that the LLW has recently been raised to £10.75 per hour.
Secondly, the company who has won the tender process (ISS) are insisting that the workforce undertake training as a requirement prior to the implementation of this new rate of pay. We are currently seeking clarification on whether this will be a method to try to justify a situation where some staff members will not receive this payment.
Thirdly, we have asked for confirmation that this pay increase will not come at the cost of cuts to jobs or hours. Staff are also wondering why the new rate will not apply until May, albeit that this will then be backdated to February.
This is why GMB are continuing with our campaign, and will be demonstrating and marching on:
Wednesday 27 November 2019
2:00 PM
Starting outside Lewisham Hospital
Marching to Lewisham Shopping Centre
Helen O'Connor, GMB Organiser said:
"GMB members who are affected are on cooking, cleaning and ward hostess contracts, which are all roles that are essential to the successful running of a hospital."
"As such, while we see the proposed pay rise as a significant step in the right direction, we will not be celebrating until our members have received confirmation that this new rate will apply to all of them."
"It also still remains the case that the members are significantly worse off than if they were directly employed by the Trust. That said, if we can get assurances that this increase will be fairly and universally applied and not paid for by cuts to jobs or hours, it represents a real victory in an on-going campaign to ensure that our members are properly paid, rewarded and respected for their contribution to delivering for patients in this hospital."
Contact: Helen O'Connor 07506771574 or GMB Southern Press Office 07970 114762
Notes to Editors
Details of the rally on Wednesday 27th November can be found at www.gmb-southern.org.uk/news/lewisham-hospital-workers-continue-fight-iss-living-wage