GMB condemn proposed Wiltshire refuse change announcement on eve of ballot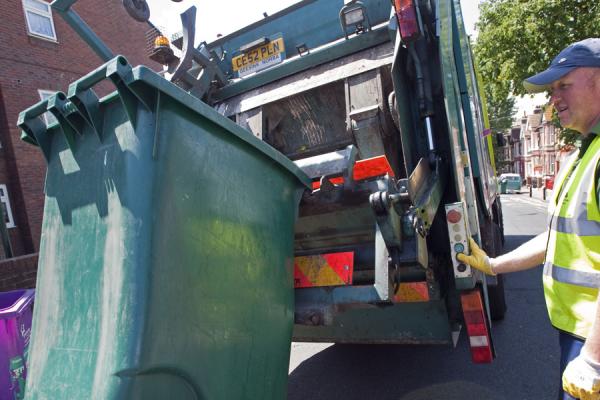 Day one of round changes could also potentially be the first day of strike action, which would of course cause double disruption for Wiltshire residents and confusion for all concerned, says Union
GMB, the union for refuse and recycling, are condemning the decision by Wiltshire Council to announce waste collection round changes on the eve of the union balloting its members for industrial action.
The union understands that the announcement from Cllr Dr Mark McClelland, the council's cabinet member for waste, could well end up costing jobs and will almost certainly increase staff workloads.
The industrial action campaign is over the council's private waste contractor Hills's failure to agree an above inflation pay rise, and failure to resolve issues around Christmas working, bonus payments and equal pay.
The union are concerned by the timing of Cllr Dr McClelland's announcement and are adamant that any threat to jobs or working hours will not affect the union members' resolve to pursue pay justice via the ballot box.
The GMB are concerned that council expectations to save £1.5m will see GMB members squeezed to do even more work for what will essentially be even less money, all while Hills shareholders continue to receive dividends.
Cllr McClelland said in his statement that "While we're making these savings, our waste contractors, Hills, will maintain the current number of collections staff, as there are a number of vacant positions that will now not be filled", and the union will be contacting the Council to have these remarks clarified to ascertain what staffing levels they believe will be acceptable, especially given the large increase in new homes we are expecting to see.
GMB's concerns that we wish Cllr McClelland to address are that as well as the workers having to work longer rounds and endure greater levels of stress and fatigue, the further knock-on effects may also include fewer refuse collections for residents and commercial properties, as well as the rodents and foxes which will be attracted into towns accordingly.
Nicky Nixon, GMB Regional Organiser said: "This announcement shows the disconnect between Wiltshire Council and Hills from those that actually deliver the service. You would think that one or the other might have considered what overworked, underpaid staff might think about such changes in normal times, let alone just as they are entering a period of dispute over in work poverty pay. It's unbelievable.
"There is a possibility that should GMB union members vote for action, day one of round changes could also potentially be the first day of strike action, which would of course cause double disruption for Wiltshire residents and confusion for all concerned.
"I will say that it is of course good news that Hills's management have finally offered to meet with GMB and sit to discuss our members pay expectations. The talks on Monday 7th February are going to be key to deciding whether there will be a strike or not from the end of February and into March.
Gary Palmer GMB Regional Organiser said: "This all makes very interesting reading. Wiltshire Council look to save £1.5 million, Hills shareholders will expect their very generous annual dividends to continue, and yet neither have remembered that it's important to pay the staff who actually do the hard work.
"Luckily GMB and importantly the Waste and Recycling operatives themselves have recognised their true value and the important part they play in providing waste services in Wiltshire.
"This means they want both a decent pay rise above inflation and fair treatment for all by a management team who at present give bonuses to some workers and not to others, even if they are working on the same contract and delivering the same service. We want our members to actually have a bit of money in their pockets and to get treated equally, not blindly hoping to receive one of these additional payments given out at the whim of management.
"We can meet on 7th February and get a solution on the table, or we can get back around that table after the first round of walk outs and strike action. We know this will see severe disruption to bin collections for Wiltshire's residents and it's obvious which would be preferable, but the choice is there for Hills to make, or for the council to intervene and force their hand."
Contact: Nicky Nixon on 07940730627 or Gary Palmer on 07552165950