GMB calls further three weeks of strikes in Canterbury bin dispute after promised new pay offer fails to materialise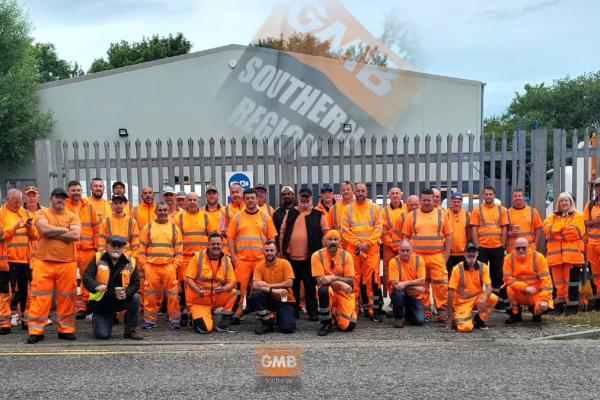 The strike seems destined to continue into September after Councillor Baldock's stated intention of talks at ACAS have failed to materialise, says GMB
GMB, the union for refuse workers, have today issued a new strike notice which extends the current strike action until at least the 10th September.
GMB members who work for Canenco, Canterbury City Council's own waste collection service, have now been on strike for a month in a dispute over pay.
Frank Macklin, GMB Organiser said:
"GMB and our members have been overwhelmed by the local support, ordinary people understand how hard it is to make ends meet at the moment. The strikers thank the local residents for their ongoing support and generosity, they must be as frustrated as we are that the politicians don't do what they say. The strike now seems destined to continue into September after Councillor Baldock's stated intention of talks at Acas have failed to materialise.
"We've had so many Canterbury, Whitstable and Herne Bay residents show their support for their hard-working refuse collectors who are battling to be paid the local market rates of £12 an hour for loaders and £15 an hour for HGV drivers [1]. The Council are seriously out of touch with their voters and the issue of low pay, as they have failed to move towards a resolution.
"Canterbury Council have had weeks now to assess the finances available and put forward an improved offer. The longer they take the more they inconvenience the residents and ratepayers of Canterbury, Whitstable and Herne Bay.
"Our members have been leafletting residents this week informing them of why they are on strike and thanking them for their support. We expect to continue this and leaflet every home in the City."
Media enquiries: GMB Press Office on 07958 156846 or at press.office@gmb.org.uk
Notes to Editors:
[1] List of local authorities in South East England and their rates of pay for refuse workers:
Brighton & Hove – Drivers = £16.27 p/h; Loaders = £12.32 p/h
Adur & Worthing – Drivers = £16.59 p/h; Loaders = £12.46 p/h
Dover & Folkestone – Drivers = £15.50 p/h; Loaders = £12.00 p/h
Ashford – Drivers = £15.02 p/h; Loaders = £12.00
Swale – Drivers = £15.02 p/h; Loaders = £12.00
Winchester – Drivers = £15.50 p/h; Loaders = £12.00 p/h
Chichester – Drivers = £15.21 p/h; Loaders = £11.99 p/h
[2] Contact details for Canterbury City Councillors
| | | | |
| --- | --- | --- | --- |
| Name | Ward | Political Party | Email |
| Pat Edwards | Barton | Labour | |
| Connie Nolan | Barton | Labour | |
| Paul Prentice | Barton | Labour | |
| Ian Stockley | Beltinge | Conservative | |
| Jeanette Stockley | Beltinge | Conservative | |
| Steph Jupe | Blean Forest | Liberal Democrats | |
| Alex Ricketts | Blean Forest | Liberal Democrats | |
| Dan Smith | Blean Forest | Liberal Democrats | |
| Mike Bland | Chartham and Stone Street | Labour | |
| Alister Brady | Chartham and Stone Street | Labour | |
| James Flanagan | Chestfield | Liberal Democrats | |
| Peter Old | Chestfield | Liberal Democrats | |
| Steven Wheeler | Gorrell | The Green Party | |
| Chris Cornell | Gorrell | Labour | |
| Clare Turnbull | Gorrell | The Green Party | |
| Dan Watkins | Greenhill | Conservative | |
| Joe Howes | Herne and Broomfield | Conservative | |
| Robert Jones | Herne and Broomfield | Conservative | |
| Liz Harvey | Heron | Conservative | |
| Tom Mellish | Heron | Labour | |
| David Thomas | Heron | Conservative | |
| Lee Castle | Little Stour and Adisham | Liberal Democrats | |
| Mike Sole | Nailbourne | Liberal Democrats | |
| Alan Baldock | Northgate | Labour | |
| Jean Butcher | Northgate | Labour | |
| Rachel Carnac | Reculver | Conservative | |
| Charlotte Cornell | Seasalter | Labour | |
| Naomi Smith | Seasalter | Labour | |
| Elizabeth Carr-Ellis | St Stephen's | Labour | |
| Mel Dawkins | St Stephen's | Labour | |
| Harry McKenzie | Sturry | Labour | |
| Keji Moses | Sturry | Labour | |
| Keith Bothwell | Swalecliffe | The Green Party | |
| Simon Warley | Tankerton | Labour | |
| Andrew Harvey | West Bay | The Green Party | |
| Michael Dixey | Westgate | Liberal Democrats | |
| Pip Hazelton | Westgate | Labour | |
| Dane Buckman | Wincheap | Labour | |
| Roben Franklin | Wincheap | Liberal Democrats | |