Christmas chaos ahead as Wiltshire parking wardens announce further strikes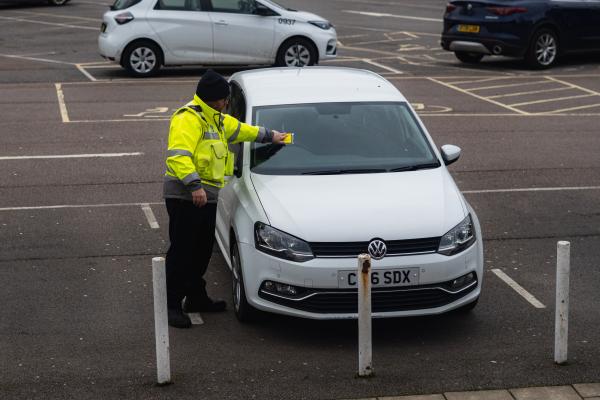 Many Christmas shoppers will choose to park for free, knowing there will be little or no parking enforcement during strike days, says GMB
GMB, the union for local government workers, can announce that parking wardens across Wiltshire will be taking further strike action to protest the council's decision to remove a contractual unsocial hours payment.
The strike action will take place across the county for one week from Saturday 10 December until Saturday 17 December, taking in two of the busiest Christmas shopping Saturdays.
The union members have previously taken two days of strike action in May, before the plans were shelved by council bosses, only to have the proposals put forward once again in August.
The proposals, if successfully pushed through, would result in traffic wardens losing around £2000 per year, with social workers losing up to 20 per cent of their pay, or £3500 annually.
Keith Roberts, GMB Regional Organiser, said:
"GMB members already took two days of strike action, because they cannot afford a pay cut.
"We thought that a deal had been reached with the council, and called off a strike in the summer, because the council agreed for pay protection for the lifetime of the contracts of existing staff, which guaranteed that they would lose no money.
"Unbelievably, on 9th August, Wiltshire Town Clerk Terence Herbert stuck his oar in, and overrode the deal his own staff had reached with us, instead proposing deferring the pay cut for 4 years, through what they are calling 'pay protection'.
"In the current cost of living crisis, actually taking money away from staff is crazy, and even the suggestion of a future pay cut has caused a crisis of retention and recruitment.
"The way forward is clear, Wiltshire council just needs to drop the stupid idea of cutting their key worker pay.
"We had struck a deal, and GMB believes that it is the ego and self-importance of the Chief Clerk that blew it up, to the detriment of his own staff and the Wiltshire public.
We put the deal of just 4 years pay protection to our members, who unanimously rejected it and now the traffic wardens have unanimously voted for strike action.
"During our previous strike days absolutely no parking fines were issued. So many Christmas shoppers will choose to park for free, knowing there will be little or no parking enforcement during strike days."
Contact: Keith Roberts on 07852 182348
Notes to Editors:
Wiltshire Council has proposed removing a contractual, unsocial hours uplift from around 350 staff. This would result in a 10 per cent pay cut for civil enforcement officers (traffic wardens), leisure centre staff, reablement workers (specialist care staff) and highways, and a 20 per cent pay cut for social workers.
As the uplift is in the staff contract of employment, it can only be voluntarily changed if they agree. GMB members do not agree to the change.
Wiltshire Council has refused to rule out the controversial practice of fire and rehire, to impose the change on staff against their wishes.
Since the pay cut was first proposed, the affected services have been in crisis, with increased sickness, and staff leaving, and problems of recruitment. There are a third fewer traffic wardens than there were a year ago; and agency costs for social workers have exploded.
GMB members who are traffic wardens held 2 days of strike action on 7 and 17 May. During strike days, there were absolutely no Penalty Charge Notices (parking fines) issued in Wiltshire.
A 7-day strike was planned for 30 June until 6 July. This was called off following an agreement made between GMB and Wiltshire Council at ACAS facilitated talks on 29 June. Under this agreement, Wiltshire Council promised to keep the allowance for existing staff for the lifetime of the contract. This agreement was endorsed by a "working party on Terms and Conditions" meeting on 6 July, attended by Wiltshire HR, all three unions and the heads of department of all the affected services.
On 9 August, Terence Herbert, Wiltshire Council's Chief Executive met with unions and reneged on the deal, saying that he would not be bound by the agreement made by his HR, and proposing instead just 4 years' pay protection. This was put to a ballot of GMB members, across all departments, who unanimously rejected the new proposal.
GMB traffic wardens have voted 100 per cent in favour of strike action, on an 86 per cent turnout.
GMB demands that Wiltshire Council withdraws the proposed pay cut, and rules out 'fire and rehire.'