Canterbury refuse collectors to continue strike action after GMB members reject pay rise that won't start until next year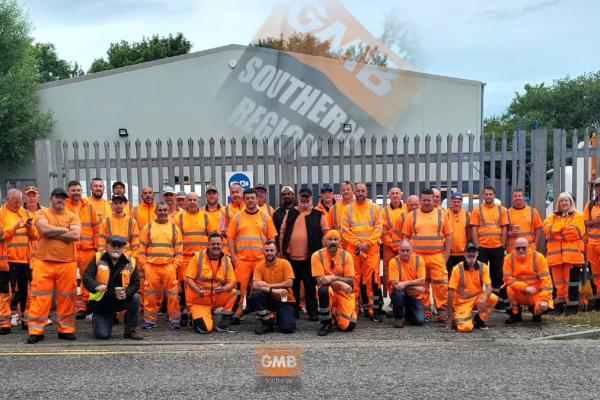 It is clear the two sides are not that far apart, so getting the Council, Canenco and GMB in a room with ACAS and thrashing out a deal has to make sense, says GMB union
GMB, the union for refuse workers, can this morning confirm that the latest pay offer from Canenco, Labour-run Canterbury City Council's wholly-owned refuse contractor, has been overwhelmingly rejected by striking members in a secret ballot held from the picket line outside the depot.
The pay offer was released in the media by the Council and Canenco late on Thursday [10 August].
GMB members considered the offer over the weekend before being balloted this morning [Monday 14 August].
Whilst the offer will give the local market rate of £15 per hour for HGV drivers and £12 for loaders, it will not come into force until January next year.
GMB has this morning communicated the ballot result to the company and made a fresh invitation to begin immediate talks at ACAS to thrash out a settlement.
The strike has already been extended to at least 10 September.
Frank Macklin, GMB Regional Organiser said:
"Whilst our members welcome the £12 and £15 hourly rates, they are doing the work now and should be paid for it now, not next year.
"Our members are in dispute over the pay rise for 2023, in which we have had record increases in the price of food, electricity, gas and other necessities.
"Time and again throughout this process, GMB has invited Canterbury Council and Canenco to engage in proper pay talks brokered by ACAS, the impartial Advisory, Conciliation and Arbitration Service and we are again repeating that invitation.
"It is clear that the two sides are not that far apart, so getting the Council, Canenco and GMB together in a room with ACAS and thrashing out a deal has to make sense.
"GMB calls on the Council and Canenco to sit down with us at ACAS tomorrow and find a solution."
Media enquiries: Frank Macklin on 07983 326743
Pay rates and implementation dates for comparative roles in neighbouring local authorities –
Brighton & Hove – Drivers = £16.27 p/h; Loaders = £12.32 p/h – paid from 1 January 2023
Adur & Worthing – Drivers = £16.59 p/h; Loaders = £12.46 p/h – paid from 1 April 2023
Dover & Folkestone – Drivers = £15.50 p/h; Loaders = £12.00 p/h – paid from 1 April 2023
Ashford – Drivers = £15.02 p/h; Loaders = £12.00 – paid from 1 April 2023
Swale – Drivers = £15.02 p/h; Loaders = £12.00 – paid from 1 January 2024
Winchester – Drivers = £15.50 p/h; Loaders = £12.00 p/h – paid from 1 April 2023
Chichester – Drivers = £15.21 p/h; Loaders = £11.99 p/h – Paid from 1 January 2023