Canterbury, Herne Bay and Whitstable bin strike to continue through August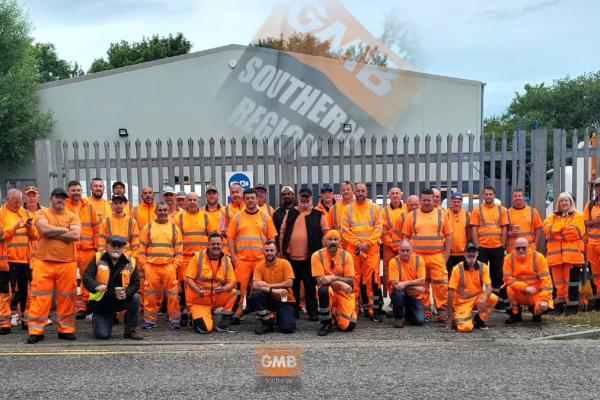 Our members are not making unreasonable demands, just for the market pay rates agreed in neighbouring authorities, such as Dover, Folkestone, Ashford and Swale, says GMB
GMB, the union for waste and recycling workers, has given notice to Canterbury Council's contractor Canenco for further strike dates.
GMB members employed by the council's wholly-owned company will now be taking industrial action until at least Sunday 20 August, unless councillors in Canterbury take action to resolve the dispute.
The workers are demanding £15 per hour for HGV drivers and £12 per hour for loaders and street cleaners, to bring them in line with those doing the same jobs in neighbouring local authorities.
Frank Macklin, GMB Regional Organiser said:
"GMB have been overwhelmed with the positive feedback from the vast majority of Canterbury residents, including many people coming down to the picket line with sweets, cakes and food, as well as messages of support.
"The strike is set to continue today, tomorrow and going forward until the contractor the Council owns agrees to pay £15 per hour to HGV drivers and £12 per hour for loaders and street cleaners.
"Our members are not making unreasonable demands, just for the market pay rates agreed for the same roles in neighbouring authorities, such as Dover, Folkestone, Ashford, Swale, Brighton, Worthing, Chichester and Winchester amongst others (see below).
"The residents of Canterbury, Herne Bay and Whitstable may find the council's messaging confusing, as many were misled by the Council that the dispute was settled on Friday, as well as reading claims that all black bin rounds were completed yesterday.
"GMB encourages residents to contact their local councillors for an update on kerbside collections going forward."
Media enquiries: Frank Macklin on 07983 326743
List of local authorities in South East England and their rates of pay for refuse workers:
Brighton & Hove – Drivers = £16.27 p/h; Loaders = £12.32 p/h
Adur & Worthing – Drivers = £16.59 p/h; Loaders = £12.46 p/h
Dover & Folkestone – Drivers = £15.50 p/h; Loaders = £12.00 p/h
Ashford – Drivers = £15.02 p/h; Loaders = £12.00
Swale – Drivers = £15.02 p/h; Loaders = £12.00
Winchester – Drivers = £15.50 p/h; Loaders = £12.00 p/h
Chichester – Drivers = £15.21 p/h; Loaders = £11.99 p/h