GMB tells Canenco to stop victimising striking refuse workers in Canterbury, Whitstable & Herne Bay over pay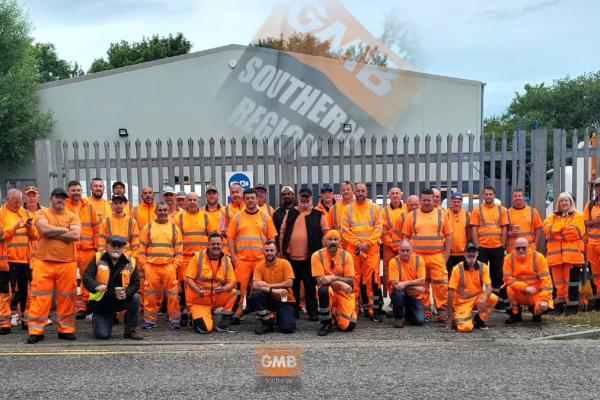 This is a vindictive move by Canenco, to penalise our members for having the courage to stand up for themselves, says union
GMB, the union for refuse and recycling, is accusing Canenco, Labour-run Canterbury City Council's wholly-owned waste contractor, of victimising its members who are currently on strike over pay.
The members have received payslips today and can see they will be docked pay not only for the days they have been on strike but also for days still to come.
GMB believes this could constitute an unlawful deduction in pay and is seeking legal advice on the matter.
GMB members have been on strike since Wednesday 5 July demanding £12 an hour for loaders and £15 an hour for drivers, the local market rate for both jobs.
The strike has seen kerbside bin collections missed and rubbish piling up in the streets.
Frank Macklin, GMB Regional Organiser said:
"Whilst GMB would not expect our members to be paid for days when they have taken strike action, they should not be getting penalised for prospective future action they have not taken yet and may in fact not take after the Leader of the Council today said he wanted to have further talks at ACAS.
"This is a calculated and vindictive move by Canenco, to penalise our members for having the courage to stand up for themselves.
"What a shame they don't use their efforts on trying to find a solution.
"The reason GMB members are on strike in the first place is because they don't get paid enough and are fighting to get the same as refuse workers in neighbouring councils like Ashford, Folkestone, Swale, Dover, Brighton & Hove and more.
"Anybody wishing to contribute to the strikers' hardship fund can do so by contacting GMB Southern Regional Office in Chessington."
Media Enquiries: Frank Macklin on 07983 326743
List of local authorities in South East England and their rates of pay for refuse workers:
Brighton & Hove – Drivers = £16.27 p/h; Loaders = £12.32 p/h
Adur & Worthing – Drivers = £16.59 p/h; Loaders = £12.46 p/h
Dover & Folkestone – Drivers = £15.50 p/h; Loaders = £12.00 p/h
Ashford – Drivers = £15.02 p/h; Loaders = £12.00
Swale – Drivers = £15.02 p/h; Loaders = £12.00
Winchester – Drivers = £15.50 p/h; Loaders = £12.00 p/h
Chichester – Drivers = £15.21 p/h; Loaders = £11.99 p/h